Testimonials
"If you ever want to present a good image to anyone for Valley Energy, you should send Frank and Hans. They are very neat, capable and pleasant."
– Midge
"What a wonderful job Brian did on my installation last week. He was very nice and polite and did a great job."
– Dave
"What a great technician Brian Brazie was when he responded to a callback situation at my house. He was talkative and explained everything that went on with the heating unit. He cleaned up areas that I wouldn't have expected him to. He was fantastic which made up for the fact that a callback was necessary."
– Mr. VB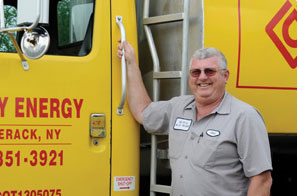 "What a great job Lee did on the installation of my furnace yesterday. Lee is a real asset to the Valley Energy. Valley Energy is a "Class A" company."
– Bill S.
"I was very impressed with Terry while he was at my house on a service call this this A.M. I would highly recommend to anyone. He was very kind and polite; open to questions and very thorough in explanations."
– Catherine J.
"Bryan Brazie!!! Thank you for the excellent service!"
– Bonnie
"I was very impressed with Frank when he responded to my afterhours air conditioning problem."
– Ellie D.
"The guys did a great job on my boiler, indirect and Roth tank installation last week. I am very happy."
– Mr. F
"Brian was there to fix my air conditioning system today to that, "Brian is the best." As soon as he took the cover off of the unit, he knew exactly what the problem was and had it fixed in no time. "Brian is the best". "
– Mr. A
"Butch was very, very happy with the service that he provided yesterday. He has a positive attitude and I would highly recommend him to anyone. "
– Mr. K
"Frank did a great job of cleaning my boiler and A/C units."
– Dr. R
"Lee and Mark did an impeccable job on my fuel tank installation yesterday. They did a great job. I am very happy. -Larry W.
"Butch was really awesome about keeping me informed of the progress being made in thawing my frozen house. I am in Florida and very concerned with the house here. Butch kept in touch with me via his own cell phone throughout the four-day process and I am very grateful."
– Michael C.
"We recently became new customers to Valley Energy. We had Valley fill two fuel tanks in a duplex in Chatham ans additionally called back for Valley Energy to perform an annualfurnace cleaning and inspection. Although there have been a variety of different issues in our transition to Valley Energy, there is an employee that stood out and needs to be recognized. Your employee, Mr. Brian Cozza was exetremely professional, respectful and polite. Thank you Valley Energy for employeeing a professional like Brian Cozza."
– Karyn S.
"The Radon came in at 2 pic/l. I'm thrilled. These guys are awesome!! Wish they were down here in my area. Valley Energy recommends periodic re-tests which I think is wise."
– Bill
"Lee did an impeccable job on my fuel tank installation yesterday. He did a great job. I am very happy."
– Larry
"Thank you for sending Brian Cozza to address the issue that I was having with odors and rumbling since the cleaning on my heating unit. Brian was absolutely wonderful and I no longer have any odors."
– Mrs. C
"The technician you sent was super! He really had a lot of knowledge and knew what he was doing. He did more to the boiler than anyone ever has in the 39 years that they've been renting the house. It has never run so well in all those years as it does now."
– Kacey
"Your drivers are awesome….First of all, they drove up my driveway which is a feat in itself, then hopped the fence in order to avoid the snowdrift all to make sure that we got our fuel. Awesome."
– Patricia
"Frank Stancari is an awesome technician. He is 'da Bomb."
– Mrs F, Claverack, NY
"Terry Phillips is the best Tech and he always goes above and beyond for me."
– Ms. S
"Wayne did an excellent job cleaning my furnace. I am very pleased."
– Lawrence B.
"Wayne did an awesome job when he cleaned my heating unit. My former company's techs never took that amount of time and care with my unit."
– Janice
"Frank Stancari cleaned my heating unit this morning, he is the best Tech that you have!"
– Ms. K
"Wayne did an excellent job. He answered her million and one questions and I am very happy to have him at her house."
– Mrs. D
"Therisa is so sweet, pleasant and helpful."
– Mrs. M
"What an awesome job Terry did on my Radon Mitigation system installation."
– Mrs. K
"Butch is a great Tech. He does a really thorough job compared to some of the others that I have had at my house. You are lucky to have him as your employee."
– Joe
"Your fuel oil tank installer, Brian, did a beautiful job."
– Mrs. P
"Tabby is a very, very nice lady. She's very professional and she is hoping to meet her the next time that she stops in the office."
– Mary H.
"I chose Valley Energy because of Technician, Frank Stancari. He is courteous and friendly, as well as totally professional. He is informative without coming across as being pushy or trying to make "a hard sell". I am really impressed by him."
– Ms. M
"Butch is a really great guy. He always does a thorough job and is pleasant to deal with. I feel lucky to have him servicing my equipment."
– Louis, Livingston
"I wanted to say just one word. WOW. Thanks for getting things moving as fast as you did and the guys were great."
– Mr. Spoto, North Chatham
"Thanks for sending the Butch Howard so fast. Great service."
– John, Camp Hill Village
"Brian Cozza (technician) responded to my no heat call late last night and was very good. He was knowledgeable and thorough."
– Mrs. G
"The technician that performed my C&S was very knowledgeable and efficient. He also informed me of the differences between the Comfort and Comfort Plus Plans which I took advantage of and am looking forward to saving lots of $$$ because of it."
– Mrs. A
"My relationship with Valley Energy and Kim Kiel has been positive with the installation of our York propane furnace. We benefited by their price and their expertise. We were able to have Lee and Frank, part of their technical staff, who were able to wire the unit to our generator and our direct vent water heater. For us this process went very well and I would recommend them very highly to friends, customers and clients."
– Rochelle, Chatham
"Dear Russ… On Sunday, eighth of September, while preparing for the imminent arrival of my parents-in-law from out of state, the valve at the bottom of the oil tank in our basement broke, causing a flood of fuel on the cement floor. I called Valley Energy's emergency service right away, and your crew, including on-call and other men who had the day off, came and immediately stepped up to staunch the flow of oil until the problem could be solved. They worked all afternoon with care and attention, and calmly handled the emergency.
Over the next few weeks, you, Terry, Brian (and perhaps others) returned quite a few times to complete the steps of clean up, including dealing with the DEC, and working with our insurance agent.
I thank you all from the bottom of my heart for making this disaster right. Your knowledgeable handling of the problem and your kind treatment of us not only made our family visit a success, but also solidified my faith in your people and your company.
I thought you should know we appreciate everything you have done to help us through a difficult time, and look forward to continuing our relationship with you in the years to come." – Susie Thilmany, Claverack
"The Valley Energy technicians were very professional, efficient and courteous in regards to the installation of my oil tank."
– Jean, Hudson
"What a professional, efficient and clean job your technician did in replacing my circulator. He even went as far as to check a radiator that hadn't been looked at in years and found that it had only been functioning at half of its capacity. What an incredibly pleasant experience with Valley Energy; from ease and flexibility in scheduling to actually having the service done. I look forward to dealing with Valley in the future."
– Steve, Claverack
"The guys did a great job installing my new furnace and they were done in record time. The furnace has been running without a hitch ever since."
– Mr. Closson, Hillsdale
"It was a good move to support Sleepy Hollow Co-op and switch to Valley Energy."
– Shirley, Athens
"Valley Energy has always provided us with the best service!"
– Bill Gerlach, Claverack
"During the removal of a buried fuel tank for one of my sellers, there was a problem discovered. Valley Energy did a great job coordinating with the DEC and keeping both the seller and I informed during the entire process. They did an outstanding job."
– Jason, Ghent
"VALLEY ENERGY IS EXTREMELY DEPENDABLE."
– Ralph, Valatie
"What a pleasure it's been working with you and your staff! Everyone is always professional, informative and go the extra mile to make themselves available whenever I have any questions. I look forward to continuing business with you in the future."
– Beth, Greenport
"I just wanted to let you know that the technician that handled our service today was a pleasure to deal with and convinced us yet again that your company does an excellent job."
- Gilbert, Austerlitz
"I am glad I switched to you people."
- Brian, Pine Plains
Thermopride Mobile Home Furnace: "Techs did a good job. Furnace runs great."
- Peter, Hudson
Oil tank replacement: "Men were professional and did a good job."
- Ron, Hudson
Mobile Home Furnace Installation: "They did an excellent job; were very efficient and answered all of my questions thoroughly."
- Gordon Ingles, Hudson
Mini Split Installation: "System is working well. Did a fantastic job. Did the complete heating and air conditioning system in the home. I am a retired builder who was in the business for 43 years, I know when I see a good job."
- Joe Simione, Copake
"Happy with the whole experience" involving the installation of his heat pump hybrid water heater.
- Benjamin, Ghent